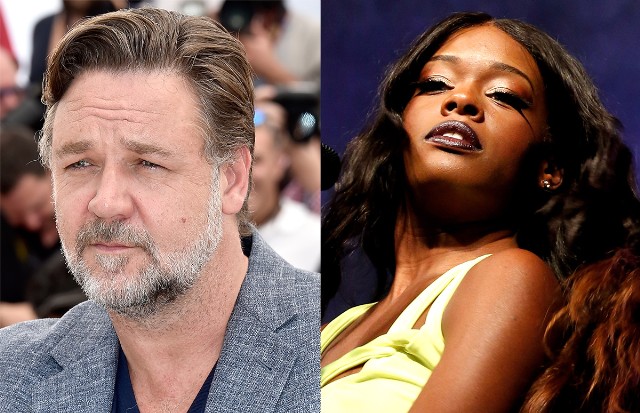 Azealia Banks is speaking in depth about what she says went down between her and Russell Crowe in a Beverly Hills hotel suite over the weekend.
The rapper spoke exclusively to E! News about the events leading up to the moment Banks is claiming the Oscar-winning actor "called me a n----r, choked me, threw me out and spat at me."
Banks said she was originally at the hotel for a business meeting with rapper and film director RZA, which eventually turned into her meeting up with him at a dinner party with Crowe and a bunch of what she described as "old Hollywood dudes." After she claimed to have joked with them about making horror movies and poking fun at their work, she said feelings got hurt and Crowe turned to her and said, "Hey, you haven't done anything in your career, so you have no right to tell him about horror."
The musician recalled how, shortly thereafter, another drunk woman started getting "aggressive" with her and threatening her. Banks told her, "This is not how this is going to go," she explained. "I said, 'If I throw something at you and you get hurt, then the party is going to be done. Then we're all going to look bad and it's going to be a terrible night.'"
At that point, Banks said Crowe turned to her so that only she could hear and whispered in her ear, "Even if you tried, you wouldn't even get close enough, you n----r."
She continued, explaining, "Next thing you know, I'm getting choked up, I'm getting dragged out of this room and spat on. I felt betrayed, I felt humiliated, I felt low. It almost felt like a set-up."
She said no one in the room came to her defense, not even RZA, and though she wants to give him the benefit of the doubt (considering he cast Crowe in his film The Man With the Iron Fists), she felt like she needed to do something.
Originally, she shared the story to Facebook, but then thought better of it, deleting the post. When TMZ shared details about the evening the following day, she decided to press charges.
"I would like him to apologize to me publicly now because [he] went to TMZ, [like an] idiot," she claimed, although Crowe did not speak to TMZ on the record. "I didn't want to press charges because dealing with the police, dealing with the courts is such an inconvenient thing. I don't want this happening. They say I'm doing this for attention. Who wants this kind of attention?"
Overall, she said she felt obligated to move forward in coming out with her story, not just for herself, but for all women in Hollywood.
"I'm pretty sure this happens to women in Hollywood so often, where you get chastised into a corner," she explained. "Even his attorney called me and said something like, 'If you say something about this, then you'll never work in this town again.' I'm pressing [charges] now."
She continued, "He doesn't get it. He thinks I'm just some little black girl from Harlem that doesn't have any backing. They think they can just frame me."
Read More at E!