| | |
| --- | --- |
| Posted by Admin on June 30, 2015 at 8:40 AM | |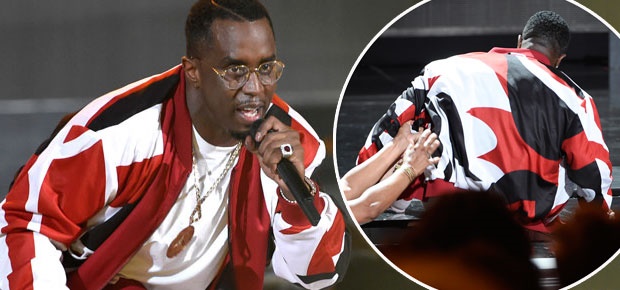 Diddy is not having the best night. The "Bad Boy for Life" rapper not only fell into a hole while performing onstage at the 2015 BET Awards, he also repeatedly screwed up while presenting Smokey Robinson during Sunday night's awards show.
According to US Magazine, Sean "Diddy" Combs joined hip-hop royalty 112, Lil' Kim, Faith Evans, Pharrell Williams, French Montana, Ma$e, and more Bad Boy label artists for an epic tribute on stage at the Microsoft Theater, but his performance was overshadowed by his now-viral mishap.
Clad in a jumpsuit and eyeglasses, Diddy completely dropped into a hole in the middle of the stage before pulling himself back onto his feet.
"The Devil was tryna bring Diddy down to Hell & Diddy wasn't goin lmao," one viewer captioned a hilarious Vine of Diddy's fall. This comes just days after he was arrested for allegedly assaulting his son Justin Combs' assistant UCLA football coach.
"I was getting so loose I fell! LOL, but really though I busted my ass! #finnaGetLoose #AppleMusic ... Puff Daddy & The Family feat @pharrell ... IF YOU EVER FALL DOWN, get your ass up and FIGHT!!!!!!! But really though, I crack up every time I see this s—t! It's like I f—king disappeared. HAAAAAA!!!!" Diddy later captioned an Instagram.
Following the snafu, Diddy introduced Smokey Robinson and stumbled while reading the teleprompter. "I'm sorry, y'all, I'm a little nervous because we just celebrated 20 years and it's like a big deal for me, so thank you all for being with me. I appreciate you. I've got to do it right for Smokey, can you start it again?" he said while presenting the legend with the Lifetime Achievement Award.