| | |
| --- | --- |
| Posted by Admin on July 24, 2020 at 9:30 AM | |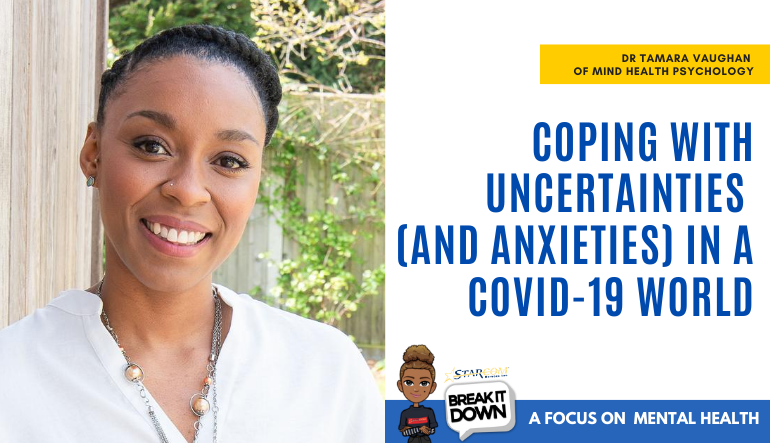 COVID-19 certainly has created a state of chaos and disarray. While many countries are seeing reduced cases and have been subsequently relaxing their lockdown protocols, the emotional and social impact of this crisis may be experienced for some time to come. Aside from the physical health risks of contracting the COVID-19, many of the clients that I work with in my private practice and in the NHS, as well as friends and family, have described feeling as though they have been on an emotional rollercoaster throughout this time. This may resonate with many of you. One minute, you may be feeling as though you're coping well and even enjoying the lockdown; the next you may feel anxious and stressed; and then the next, you may feel lethargic and low in mood. The loss of structure, educational/academic input, income and the relative certainties of our usual way of life, will have caused many of us to experience this array of emotions in response to the many changes and uncertainties we have been facing. This has also been supported by early research conducted by Williams et al (2020) so you're not alone, and you're certainly not going crazy.
In today's blog article, I'll be offering you 5 general, easy to implement, tips aimed at helping you maintain your emotional well-being throughout this period of transition, and to slow that rollercoaster down.
Create (and stick to) a structure and routine
Various psychological approaches and studies, including a report published by The Lancet Psychiatry, support the importance of a consistent routine on our general wellbeing. Moreover, creating a routine can allow us to regain some sense of control amongst all of the uncertainty. With many people working or studying from home, or not working/studying at all, this is an especially important strategy to help you cope during the day. The routine doesn't need to be too complicated; here's an example:
7 am: wake up and shower
7:30-8am: have breakfast
8-8:30am: go for a walk or do some light stretches….
6pm: have dinner
7-7:30: read
Read more of this article about Coping With Uncertainties (And Anxieties) In A COVID-19 World by Chartered Counselling Psychologist Dr Tamara Vaughan of Mind Health Psychology at starcomnetwork.net
starcomnetwork.net/coping-with-uncertainties-and-anxieties-in-a-covid-19-world/