| | |
| --- | --- |
| Posted by Admin on March 7, 2016 at 6:20 AM | |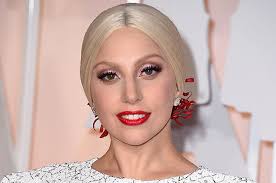 Lady Gaga may have exuded bravery during her Oscars performance on Sunday, but the singer shared in a new interview with SiriusXM's Morning Mash Up that she was very scared prior to the show.
"I was really, really having a hard time getting ready for this performance," she admitted of the rehearsal process. "I've been sick for a long time because of what happened to me all those years ago. ... I was on the floor of my dressing room and my team was telling me to be strong and I was like, 'Don't you tell me how to feel!' I was really losing it; I was really going through it."
"I went out there and I met the survivors, and I just started crying and I had no makeup on, my hair wasn't done. ... I just said, 'I'm sorry I can't be this for you. I'm sorry I can't be Gaga for you right now,'" she continued. "They said, 'No, no, it's more real this way,' and then one girl said, 'I really want to get matching tattoos.' She was trying to make me feel not alone and she was dead on ... I knew I wasn't alone."
Read More at Billboard