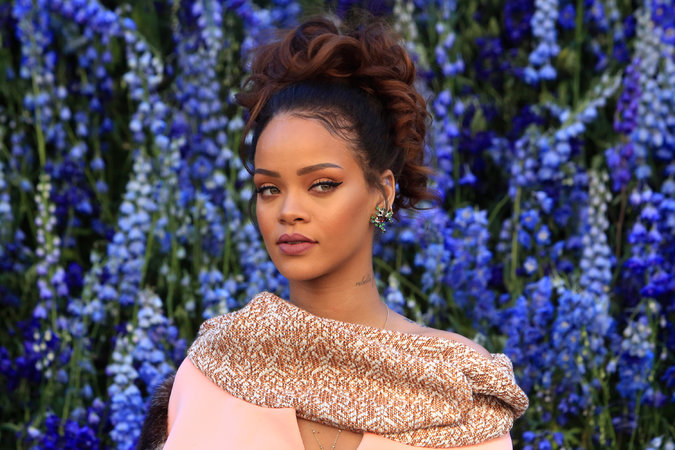 Rihanna, a musician who is beloved by her fans for saying and doing pretty much whatever she wants, finally seemed to cross a line. In a cover interview for Vanity Fair, the pop diva appeared to defend Rachel Dolezal, the white civil rights activist who claimed to be black.
Ms. Dolezal was widely shamed on social media this summer for appropriating black culture.
The New York Times reports that Rihanna's lengthy Vanity Fair interview centers on her dating life and being the victim of domestic violence at the hands of her ex-boyfriend, Chris Brown. "I will care about him until the day I die," she said. But it was the handful of words the singer, 27, spent on Ms. Dolezal that stuck with fans on social media, and perhaps especially the use of the word "hero."
"I think she was a bit of a hero, because she kind of flipped on society a little bit," Rihanna told the magazine. "Is it such a horrible thing that she pretended to be black? Black is a great thing, and I think she legit changed people's perspective a bit and woke people up."
Fans reacted with disbelief, humor and a healthy dose of memes.
Others were frustrated that someone brought Ms. Dolezal back into the spotlight

Ms. Dolezal, a former president of the N.A.A.C.P. chapter in Spokane, Wash., became the subject of widespread scorn in June after her parents told the news media that she had been pretending to be black. Her response, which she still maintains, is that she is "transracial." "It's not a costume," she told Vanity Fair in July.
Some writers placed Ms. Dolezal in a long history of whites "passing" as black, even seeing the scandal as a chance to discuss race and identity.
In June, Allyson Hobbs, the author of "A Chosen Exile: A History of Racial Passing in American Life," wrote, "at the very least, perhaps we can use Ms. Dolezal's story, puzzling as it is, as an opportunity to have a candid, lively, long-delayed, public conversation about the knotty meanings of race and racial identity, and how it has confounded our nation's best aspirations."
Those who saw Ms. Dolezal's behavior as a harmful violation were more vocal.
"In this moment, when blackness means something very specific — asserting that black lives matter — it follows for many people that categorical clarity has to matter, too," Daniel J. Sharfstein, who wrote "The Invisible Line: A Secret History of Race in America," wrote in the The New York Times Magazine in June.