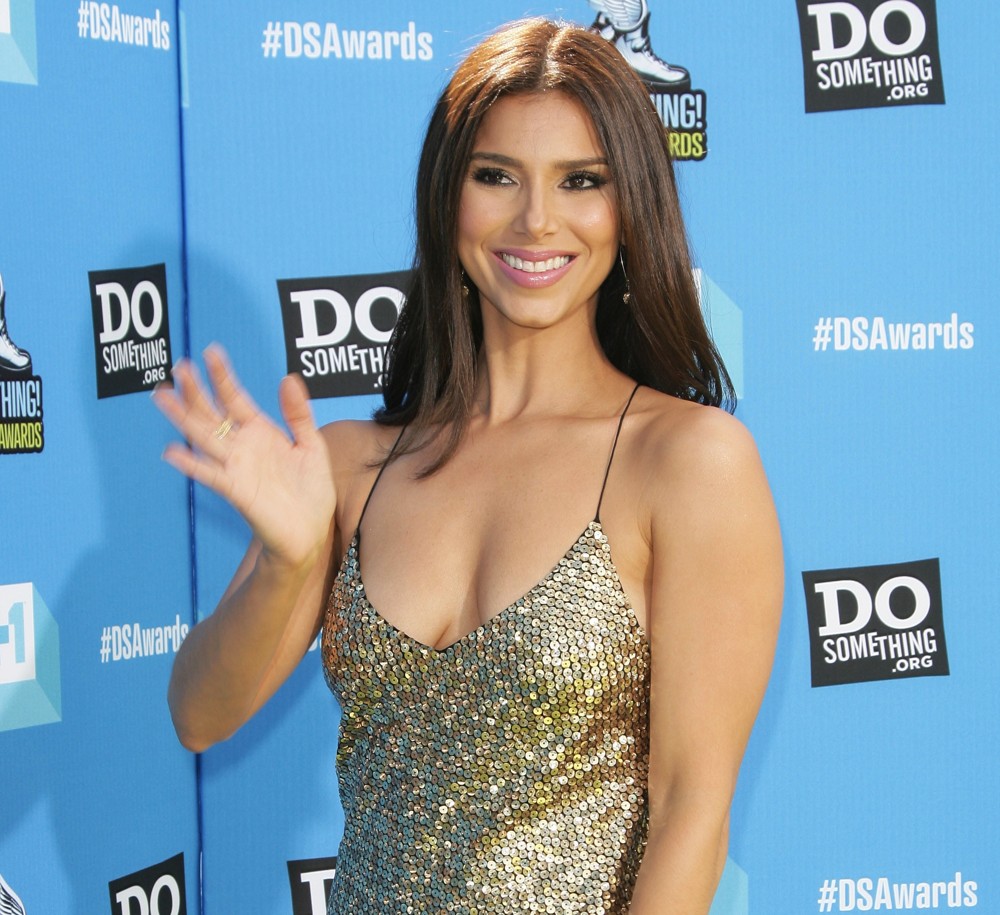 The list of those dropping out of any gigs that have to do with the Miss USA pageant is getting longer.
Actress and Latin beauty Roselyn Sanchez is one of the latest to voice her disconcern with Donald Trump following his anti-immigrant speech, and subsequently announced that she will no longer serve as a co-host for the Spanish-language simulcast of Miss USA alongside actor Cristian De La Fuente, who also pulled out, along with Univision.
Sanchez took to Facebook to address bowing out of the pageant in Spanish, which loosely translates to, "As a Latina, proud of my roots, culture and all that we have contributed to this nation, I decided to cancel my participation as co-host the Miss USA pageant. Not tolerate the so disrespectful and hurtful words out of the mouth of Mr. Trump.
"It seems incredible that in his speech to announce his candidacy, has had that lapse of intelligence and decency. Mexicans, like all Latinos, contribute positively to this great nation. We are the force that keeps the country afloat. I was very excited and grateful for the opportunity to serve as co-host of this great event in which many Latinas have shown, but more excited I have loyalty to my people. Enough of racism and "influential" people belittling us. Univision, thanks for having me and for honoring your audience and cutting relationship with everything that has to do with Trump."
(The pageant is run by the Miss Universe Organization, which is owned jointly by Trump and NBCUniversal.)
Sanchez was, of course, referring to Trump's comments in his June 16 presidential-bid speech, where he said, "The U.S. has become a dumping ground for everybody else's problems. When Mexico sends its people, they're not sending their best. They're not sending you. They're sending people that have lots of problems, and they're bringing those problems with us. They're bringing drugs. They're bringing crime. They're rapists. And some, I assume, are good people […] It's coming from more than Mexico. It's coming from all over South and Latin America, and it's coming probably—probably—from the Middle East."
Trump's camp has responded to Univision pulling out of their deal, telling E! News in a statement, "The Mexican government and others are putting tremendous pressure on Univision to break their signed and fully effective contract with the Miss Universe Organization because Mr. Trump has been exposing to the public, and the world, the significant damage that is being done at the southern border, and the terrible and costly trade deals that the United States is incompetently making with Mexico (these deals are great for Mexico and horrible for the United States).
The statement continued, "Mr. Trump cannot be silenced on this very important problem for the United States. I have great respect for Mexico and love the Mexican people, but my loyalty is to the United States and making our country great again!"
Additionally, Michael Cohen, Executive Vice President and special counsel to Trump, announced in a statement obtained by E! News that they are going to take legal action against the network for bowing out.
"We intend to pursue all legal rights and remedies available to Mr. Trump pursuant to the terms of the license agreement as well as a defamation case against Univision. I am at this moment finalizing the retainer agreement with outside counsel."
Meanwhile, NBC has also issued a statement, telling E! News, "Donald Trump's opinions do not represent those of NBC, and we do not agree with his positions on a number of issues, including his recent comments on immigration."
(E! and NBC are both part of the NBCUniversal family.)