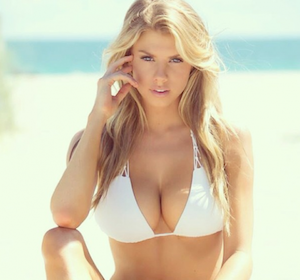 Charlotte McKinney was struggling to get a foothold in the cutthroat modeling world when she decided to give social media a try.
Good idea.
Now dubbed "the next Kate Upton," the successful Guess Model told FOX411 how Instagram helped made her insta-famous, and how she deals with being compared to, well, you know.
FOX411: Do you like being compared to Kate Upton?
Charlotte McKinney: Personally, I don't compare myself at all to her. I think we're two totally different people but I admire her business aspect of her career, I think she's done an amazing job.
FOX411: When did you notice you went from being one of thousands of models posting your pics on Instagram to getting a huge fan base – now at 100,000 and counting?
McKinney: For a while I was having trouble with agencies, and no one really wanted to sign me. I had some agents that weren't really pushy, so I took Instagram and was like this is my portfolio, I'm going to work it.
FOX411: Do you credit Instagram for your success?
McKinney: I remember asking one of my agents like, "Hey, is this Instagram thing good for models or is it bad?" And they said, "No. Keep doing it. Heidi Klum, or whoever, has millions of followers and that doesn't hurt them." So, I kept with it. I think it definitely helped. Yeah.
FOX411: Kate Upton said she would never pose nude. What's your policy on that?
McKinney: I believe there's a time and a place for it. I don't think I'm ready for it. I've been asked to pose for Playboy and there's this magazine Treats, it's nude. I'm away from it for now unless along the line of Vogue, or something amazing, but for now no.
FOX411: Do you think models like Kendall Jenner and Ireland Baldwin, have an unfair advantage because of their famous families?
McKinney: A lot of girls have been working in this industry for years, and struggling and they walk in one day because of their last name, but whatever, if people like them, then let them do it.
FOX411: What did you think about the massive celebrity private nude picture hack? Was Kate Upton foolish for taking those pics?
McKinney: My heart went out to her. It's happened to so many girls. In high school it was always around. I mean your phone is your privacy, you don't really think the world's going to see this. You have a boyfriend. We're models, we travel. We need to communicate with our boyfriends – sometimes it's a little, you know. I think we all in the world have, you know, have done that for a relationship or anything like that. But if anything, to me, it's more sad. It's tough, and going out in public after something like that would be awful. It definitely makes you go through your phone, and delete some things. Hopefully, it's all taken care of now but it's heartbreaking. It's tough, especially for a woman, you feel violated.