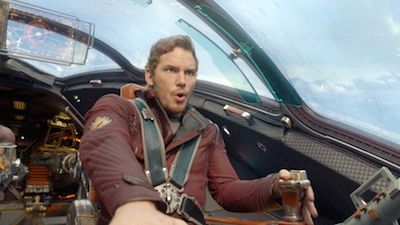 "Guardians of the Galaxy" is the Atlas of the movie world, holding the box office up on its sturdy shoulders during this post-Labor Day slump reports Variety.
The Disney-Marvel tentpole came in first place for the third consecutive weekend while faith-based offering "The Identical" tanked. With the only new wide release misfiring, the weekend after Labor Day looks to be uglier than usual.
"Guardians," which is in its sixth frame, made $2.7 million on Friday at the domestic box office and looks to earn an estimated $9.8 million by the end of the traditionally sluggish weekend. If estimates hold and "Guardians" doesn't gross at least $10 million, it would mark the first time in two years that the box office leader has failed to reel in eight figures.
Other holdovers "If I Stay" and "Teenage Mutant Ninja Turtles," came in second and third, respectively, while "The Identical" tied with "Lucy" at tenth. It will likely slip to 12th place by the end of the weekend.
After beating out fellow Marvel pic "Captain America: The Winter Soldier" last weekend to become the year's top domestic film — the first August release to do so in almost 35 years — "Guardians" will likely become by next weekend the first film of 2014 to hit $300 million.
Newcomer "The Identical" earned an estimated $534,000 on Friday. The Christian Elvis musical drama from Freestyle Releasing, the studio behind the surprise hit "God's Not Dead" ($60.7 million), looks to open to $2 million this weekend.
The pic, which cost a reported $16 million to produce, could be the lowest-grossing opener for a wide release. It's losing to another Christian film, "When the Game Stands Tall," which made $1 million on Friday in its third weekend.
"The Identical," which follows twin brothers separated at birth, failed to tap into the same underserved faith-based audience that praised "Heaven Is for Real" and "Son of God" to the tune of $91.4 million and $59.7 million, respectively.
Warner Bros.' "If I Stay" was the runner-up on Friday with $1.6 million. It's on track for a $5.8 million weekend, which would mark a 38% drop.
Like "Guardians," "TMNT" far exceeded tracking estimates when it opened last month. Paramount's action comedy made an estimated $1.5 million on Friday on its way to a $5.6 million weekend, which would raise its cume to $174 million. The pic, which launched to $65.6 million in early August, is already the 12th biggest film of the year Stateside.
Fox's "Let's Be Cops" came in fourth on Friday with $1.6 million and is on track for a $5.3 million weekend. The buddy cop comedy is showing hold in its fourth weekend and should gross $66.5 million by Sunday.
Pierce Brosnan's "The November Man" rounded out the top five with $1.2 million. Relativity's crime thriller stands to earn $4 million by Sunday, which would mark an almost 50% drop.