| | |
| --- | --- |
| Posted by Admin on June 23, 2014 at 12:05 AM | |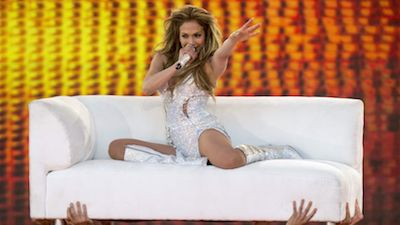 Jennifer Lopez has done an avalanche of press to promote her new album "AKA" yet according to Rob Shuter of VH1's "The Gossip Table,' the album is tanking. It's set to sell just 30 to 40,000 copies this week say insiders. Lopez's last album sold 83,000 copies in its first week and that was considered a flop.
Brit sensation, 22 –year-old Sam Smith should land the number one slot selling 150,000 to 170,000 copies for his debut CD, "In The Lonely Hour."
J-Lo has been everywhere of late. Performing in her hometown, the Bronx, teaming up with Pitbull for the opening ceremonies of the World Cup and appearing on Andy Cohen's chat show.
When Cohen cheekily asked who was better in bed; singers, dancers or actors, the 44-year-old performer replied, "I have to say that in my limited experience, I would have to say anybody involved in music. So I would say singers and dancers." (The entertainer was engaged to Ben Affleck from November 2002 to September 2003).
She also addressed an alleged feud with another songbird Mariah Carey who she confessed has said some unkind things about her.
"I would love to meet her and I would love to be friends with her," Lopez said. "I think she's incredibly talented and I've always been a fan of hers. 'My All' is one of my favorite songs of all time. I just love her. It saddens me to hear anything that's negative because I'm a fan of hers."