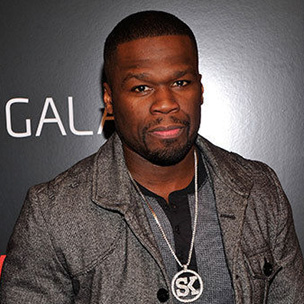 Participating in a Reddit AMA earlier this afternoon (June 3), 50 Cent answered user-submitted questions on the bulletin board based site. The Ask Me Anything session included questions on the rapper's recently botched first pitch at a Mets game, his career's biggest regrets, and the strategy behind his recent Animal Ambition release.
Asked about throwing the first pitch at the Mets vs. Pirates game last week, 50 attributed the mistake to a masturbation related injury.
"I have a skeletal muscle injury on my left shoulder from excessive masturbation so take it easy lol," he wrote.
During the AMA, 50 also responded to recent reports claiming he stole Slowbucks chain during his Summer Jam performance on Sunday (June 1).
"I dont know why people keep talking about this," he said. "I was busy performing. it was so many people on stage lol."
Asked about the inspiration to release Animal Ambition as a full-out album instead of a promotional mixtape, the Queens emcee explained feeling like the material deserved to stand on its own.
"A mixtape would have previously released music," he wrote. "Animal Ambition was all original if you put music out and call it a mixtape its not under the same scrutiny. i felt strong enough about it. it's quality."
50 Cent also confessed to the possibility of his continuing to release music past his prime when asked about his biggest career regret.
"I'll prolly make music longer than im suppose to," he said. "Like a fighter who doesnt know when to retire lol i just love doing it."
Responding to a question about the G-Unit reunion at Summer Jam, 50 Cent again confirmed his unwillingness to collaborate with Game. During his response, he also said it felt good to perform with the other members.
"Not a chance," he said to the possibility of a Game reprise. "Feels good to be back on stage with them again. couple of them gotta get in shape again they get tired lol"
The rapper also shared his first big purchase after "[making] it big."
"My grandmother a car," he wrote. "It was important to me because she took care of me when i couldn't take care of myself."
50 Cent released Animal Ambition in its entirety yesterday (June 3). During his Reddit AMA, 50 provided users with a "Reddit550" coupon for a discount purchase of the release on his homepage.