| | |
| --- | --- |
| Posted by Admin on April 2, 2014 at 8:00 AM | |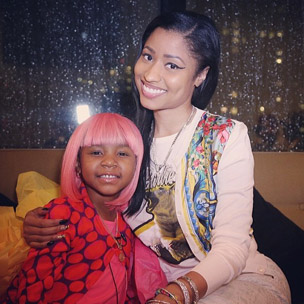 Queens rapper Nicki Minaj went to work this weekend by granting a wish to a five-year-old cancer patient and also throwing a birthday party for her 16-year-old brother.
According to MissInfo.tv, weeks after Washington Wizards player John Wall posted a video message on his Instagram page asking for Nicki's assistance in granting the wish of five-year-old cancer patient Miyah, the Young Money artist got to work making Miyah's wish come true.
In addition to meeting Nicki, Miyah also wanted to wear one of the rapstress' signature pink wigs.
With the assistance of social media, Nicki was made aware of Miyah's story and invited both Miyah and her mother to meet with her for a visit. During the pair's visit, they took pictures with Nicki while Miyah donned one of the rapper's pink wigs.
"I'm so happy that you got your pink wig," Nicki Minaj said while speaking to Miyah in a video posted on Instagram. "I think you're beautiful without the pink wig, okay? But whenever you wanna play dress-up and feel like a little Barbie doll, that's fine. But remember you promised me that you were gonna stay in school."
Prior to her visit with Miyah and her mother, Nicki held a birthday party for her 16-year-old brother Micaiah on Saturday (March 29).
The party was attended mostly by family and friends, but Micaiah did receive birthday messages from Lil Wayne, Tyga, Diddy, LeBron James, and other celebrities.
"If u could only see how his face lit up when seeing these superstars. Lol. That's all a big sister could ask for," Nicki said, according to Rap-Up.com.