| | |
| --- | --- |
| Posted by Admin on January 8, 2014 at 7:40 AM | |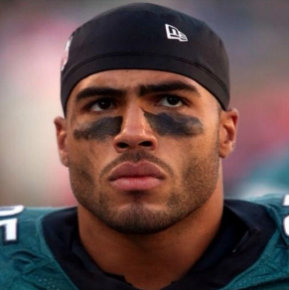 Rihanna failed to convince her fans that she has moved on from Chris Brown after posting a picture of her supposed new crush, who is a dead ringer for her ex-boyfriend.
Despite the 'Pour It Up' singer's best attempts to prove that she is over the troubled R&B crooner it seems old habits die hard.
Rihanna took to her Instagram on Monday to share with her followers some eye candy in acknowledgement of the social networking site's trending topic 'MCM', which stands for Man Crush Mondays.
The man in question was NFL football player Mychal Kendricks, who plays for the Philadelphia Eagles, and Rihanna uploaded a picture of the sport star in full uniform with the caption: "Is it Monday? Cuz chhh…. #MCM."
There is no doubt that Mychal is a good looking chap, but the picture of the hunky linebacker raised a few eyebrows among RiRi's fans.
Fans of the Bajan star were quick to point out his striking resemblance to Chris Brown, and we have to admit Mychal's bone structure, full lips and bushy eyebrows are definitely characteristics he shares with the 'Fine China' singer.
One user wrote: "Yes , He looks like Chris Brown Cute .#BreezysFace", while another mused: "he just look like breezy dow."
One user even claimed Rihanna wants to get back with Chris - who recently reconciled with his girlfriend Karrueche Tran, as she wrote: "I see someone's missing Chris brown #teamkarrueche. "
With the New Year just beginning only time will tell if Rihanna will bag herself a date with the NFL star.