| | |
| --- | --- |
| Posted by Admin on April 17, 2013 at 7:25 AM | |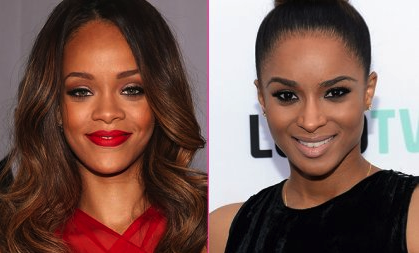 What is going on with Cici and Riri? Can we all just get along?
In case you need some catching up, Ciara is currently on the first leg of her promo tour to promote her new album, which means she's basically doing a lot of radio interviews. Now, when you go to radio, they want juicy soundbites so it's not surprising that outside of Ciara's album, she's being asked about two things that are relevant in her life at the moment: her relationship with Futureand her beef with Rihanna.
Yesterday was no different as Ciara hit up Bay area radio station Wild 94.9. When asked about Rihanna (who has been sneak dissing her all up and through Instagram), she said:
I think she's nuts right now! Like whatevers going on because for me it doesn't make any sense. I don't have beef with anybody, but I'm not going to be disrespected either. I wish her well. I don't know what her problem is. She has a lot of good things going on with herself. A lot of good things I've always said I've been happy for her. I don't get it. I really don't, but I wish her well. I wish her positivity.
Rihanna, who canceled a tour stop in Houston yesterday because she was ill, threw a shot back at Ciara after someone posted the story on Instagram. She wrote on the photo: "How u gon hate from the outside??? Thanks for the free promeaux sis!! When will they start asking her questions about HER?"